Registry
Thanks for thinking of us! The best gift to us would be to join us on September 17th, if you can. As for other types of generosity...
Lekker
www.LekkerHome.com/giftregistry_details.php?registryid=527Lekker Registry
Macy's
www1.macys.com/registry/wedding/guest/?registryId=403777
Macy's Registry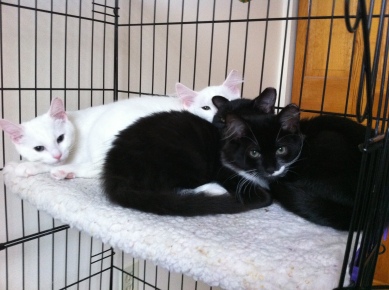 Charles River Alleycats
CharlesRiverAlleyCats.org
If you're like us and can't bear the thought of shelling out money for blenders (hence, our lack of a decent blender), please consider making a gift in honor of our marriage to our favorite charity. We have personally spent many evenings working to capture Boston's feral cats as part of this trap, neuter, release (or "TNR") program. This non-lethal organization provides a humane solution to controlling Boston's urban adult cat population, working with the local community to look after the well-being and dignity of Boston's homeless cats.
In addition to TNR, Charles River volunteers rescue, foster and locate homes for abandoned pets and feral kittens. Pictured at right are the litter of kittens we took in as foster parents ... the middle two stayed!
Donations are welcomed via PayPal or by sending a check to:

Charles River Alleycats
PO Box 290759
Boston, MA 02129
If you choose to give, please note on your PayPal or check contribution:
Davila/Woodroffe wedding gift/donation
Your tax-deductible donation pays for vet bills, cat food, medicine, or other critical operational expenses to keep this organization afloat.